"Those who trust in the Lord are like Mount Zion,
which cannot be shaken but endures forever.
As the mountains surround Jerusalem,
so the Lord surrounds his people
both now and forevermore."
- Psalms 125:1-2
Protective Mountains Encircle Jerusalem
Psalm 125
is part of the "Songs of Ascent" (
Ps. 120-134
) sung by Jews approaching the Temple Mount to worship in the Temple courts. This psalm seems to have originated while Israel was in Babylon under the imperial power of Babylonia or after Israel's return to Jerusalem while Persia held power. The ruling foreign national power of Babylon or Persia is referred to as "the scepter the wicked" in
125:3
.
The focus of this psalm is on the steadfastness of Mount Zion which is geographically Mount Moriah, the location of the temple mount and the fallen temple. It appears this psalm was written at a time early in the Jewish return from Babylon during the Persian Empire between 537-516 BC when there was no temple standing. Since, there is not a standing temple the psalmist focuses our attention on the enduring nature of Mount Moriah, called Mount Zion here.
The Hebrew verb "yashab" is translated "endure." "Yashab" means "abide, continue, dwell, establish and endure." It is often translated "to be settled" as in
Joel 3:20
where the NIV text says, "Judah will be inhabited forever and Jerusalem through all generations." God's enduring protection of Mount Moriah and the people who worship there is portrayed in the image created by the mountains that encircle it.
God's presence surrounds his people always and forever just like the mountains around Jerusalem have been established to always surround the temple Mount.
Do realize that even in today's topography Mount Moriah (the Temple Mount referred to as Mount Zion by the writer of
Psalm 125
) sets lower than these mounts that surround it:
To the east Mount Olives is 215 feet higher
To the south the mount of Jabal al Mukaber is 175 feet higher
To the west the Western Hill which includes what is today called Mt. Zion is 110 feet higher
To the northeast Mount Scopus is 250 feet higher
Five miles to the north is the High Place of Gibeon (Nabi Samwil) which is 541 feet higher
The image of Mount Moriah, the temple mount, being established and surrounded by higher mounts to the north, the south, the east and the west is an image of God's people dwelling eternally surrounded by his protection.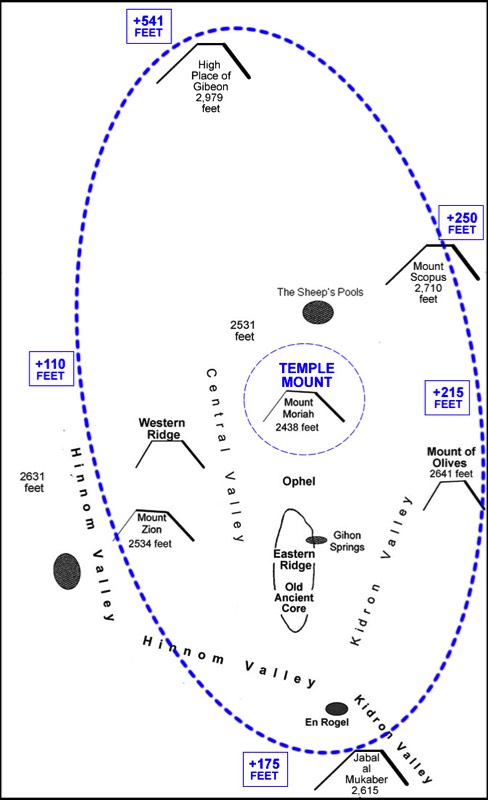 I will trust and be aware of God's presence in my life.
"What we are lacking today in our productive effort in this country is a Christian approach - a Christian background...A merely materialistic, self-centered outlook on our work cannot give us a high morale...Inducements of a material kind can never replace the spiritual urge which can only come from our sense of devotion to a cause which transcends our own personal interests."
-
Sir Stafford Cripps
(1889-1952), a British Labour politician on May 11, 1947)
Apostolic succession in Ephesus:
•
Paul
placed Timothy in position in Ephesus (62 AD,
1 Timothy 1:3-7
)
•
John
, the apostle, arrived from Jerusalem in 66 AD
•
Polycarp
(70-155) was a disciple of John. He was the bishop in Smyrna, near Ephesus. Polycarp trained and sent Irenaeus (115-202) to Gaul (France) and Irenaeus trained Hippolytus (170-236) who went to Rome to oppose the bishop.
•
Papias
, was a bishop in Hierapolis (by Colosse and near Ephesus). Papias' book "Sayings of the Lord" has been lost but is heavily quoted by early church writers.
•
Ignatius
was appointed to Antioch
•
Polycrates
, (130-196), was the 8th bishop of Ephesus. Polycrates knew Polycarp and Irenaeus. Wrote to the Roman bishop Victor concerning Easter and was cut off from the Roman Church until Irenaeus interceded.
The
Jehoash Inscription
(JI) is a 15 line Hebrew inscription that is said to have been discovered in the Muslim cemetery near the eastern wall of the Temple Mount in Jerusalem. The inscription is a royal declaration (see translation below) describing repairs to the Temple by King Jehoash (or, King Joash of
2 Kings 11-12
who reigned 835-796 BC). The ancient Hebrew text is in agreement with
2 Kings 12:1-16
and
2 Chronicles 24:4-14
.
The patina (a thin layer produced by age that forms on the surface of stone) is believed to be from antiquity. According to an article by Hershel Shanks in this month's Biblical Archaeology Review (July/August 2014) the patina of the Jehoash Inscription stone contains gold globules between 1-2 micrometers in diameter. Gold in this form is not available commercially. Ernst Pernicka, a gold specialist from the Eberhard Karls University of Tubingen and professor of archaeometry and archaeometallurgy, explained that gold melts at 1,947 degrees Fahrenheit and boils at 5,378 degrees Fahrenheit. When gold melts it forms into larger droplets. After considering the micrometer gold droplets in the ancient patina Pernicka agrees with the international team of scholars from Israel, Germany and the United States that had previously said, "Our analyses strongly support the authenticity of the Jehoash tablet and its inscription." This Jehoash Tablet would have been displayed on or near the Temple beginning around 820 BC. This royal inscription would have fallen to the ground and been engulfed in the same intense heat of the flames that consumed the Temple and turned the temple's decorative gold molten in 586 BC when Nebuchadnezzar destroyed Jerusalem.
(Articles
1
,
2
)
(
Translation
)
(Images
1
,
2
)
"He who loves a pure heart and whose speech is gracious will have the king for his friend."
- Proverbs 22:11
The dangerous man is the man who has been formed as clay in the hands of God, then sent into the world as flint stone that is as unbending as iron. When this man of God arrives there will be sparks and there will be change.
Jeremiah 10

New International Version (NIV)

God and Idols

10
Hear what the Lord says to you, people of Israel.
2
This is what the Lord says:

"Do not learn the ways of the nations
or be terrified by signs in the heavens,
though the nations are terrified by them.

3

For the practices of the peoples are worthless;
they cut a tree out of the forest,
and a craftsman shapes it with his chisel.

4

They adorn it with silver and gold;
they fasten it with hammer and nails
so it will not totter.

5

Like a scarecrow in a cucumber field,
their idols cannot speak; they must be carried
because they cannot walk. Do not fear them;
they can do no harm
nor can they do any good."

6

No one is like you, Lord;
you are great,
and your name is mighty in power.

7

Who should not fear you,
King of the nations?
This is your due. Among all the wise leaders of the nations
and in all their kingdoms,
there is no one like you.

8

They are all senseless and foolish;
they are taught by worthless wooden idols.

9

Hammered silver is brought from Tarshish
and gold from Uphaz. What the craftsman and goldsmith have made
is then dressed in blue and purple—
all made by skilled workers.

10

But the Lord is the true God;
he is the living God, the eternal King. When he is angry, the earth trembles;
the nations cannot endure his wrath.

11
"Tell them this: 'These gods, who did not make the heavens and the earth, will perish from the earth and from under the heavens.'"

12

But God made the earth by his power;
he founded the world by his wisdom
and stretched out the heavens by his understanding.

13

When he thunders, the waters in the heavens roar;
he makes clouds rise from the ends of the earth. He sends lightning with the rain
and brings out the wind from his storehouses.

14

Everyone is senseless and without knowledge;
every goldsmith is shamed by his idols. The images he makes are a fraud;
they have no breath in them.

15

They are worthless, the objects of mockery;
when their judgment comes, they will perish.

16

He who is the Portion of Jacob is not like these,
for he is the Maker of all things, including Israel, the people of his inheritance—
the Lord Almighty is his name.

Coming Destruction

17

Gather up your belongings to leave the land,
you who live under siege.

18

For this is what the Lord says:
"At this time I will hurl out
those who live in this land; I will bring distress on them
so that they may be captured."

19

Woe to me because of my injury!
My wound is incurable! Yet I said to myself,
"This is my sickness, and I must endure it."

20

My tent is destroyed;
all its ropes are snapped. My children are gone from me and are no more;
no one is left now to pitch my tent
or to set up my shelter.

21

The shepherds are senseless
and do not inquire of the Lord; so they do not prosper
and all their flock is scattered.

22

Listen! The report is coming—
a great commotion from the land of the north! It will make the towns of Judah desolate,
a haunt of jackals.

Jeremiah's Prayer

23

Lord, I know that people's lives are not their own;
it is not for them to direct their steps.

24

Discipline me, Lord, but only in due measure—
not in your anger,
or you will reduce me to nothing.

25

Pour out your wrath on the nations
that do not acknowledge you,
on the peoples who do not call on your name. For they have devoured Jacob;
they have devoured him completely
and destroyed his homeland.
Proverbs 31

New International Version (NIV)

Sayings of King Lemuel

31
The sayings of King Lemuel—an inspired utterance his mother taught him.

2

Listen, my son! Listen, son of my womb!
Listen, my son, the answer to my prayers!

3

Do not spend your strength on women,
your vigor on those who ruin kings.

4

It is not for kings, Lemuel—
it is not for kings to drink wine,
not for rulers to crave beer,

5

lest they drink and forget what has been decreed,
and deprive all the oppressed of their rights.

6

Let beer be for those who are perishing,
wine for those who are in anguish!

7

Let them drink and forget their poverty
and remember their misery no more.

8

Speak up for those who cannot speak for themselves,
for the rights of all who are destitute.

9

Speak up and judge fairly;
defend the rights of the poor and needy.

Epilogue: The Wife of Noble Character

10

A wife of noble character who can find?
She is worth far more than rubies.

11

Her husband has full confidence in her
and lacks nothing of value.

12

She brings him good, not harm,
all the days of her life.

13

She selects wool and flax
and works with eager hands.

14

She is like the merchant ships,
bringing her food from afar.

15

She gets up while it is still night;
she provides food for her family
and portions for her female servants.

16

She considers a field and buys it;
out of her earnings she plants a vineyard.

17

She sets about her work vigorously;
her arms are strong for her tasks.

18

She sees that her trading is profitable,
and her lamp does not go out at night.

19

In her hand she holds the distaff
and grasps the spindle with her fingers.

20

She opens her arms to the poor
and extends her hands to the needy.

21

When it snows, she has no fear for her household;
for all of them are clothed in scarlet.

22

She makes coverings for her bed;
she is clothed in fine linen and purple.

23

Her husband is respected at the city gate,
where he takes his seat among the elders of the land.

24

She makes linen garments and sells them,
and supplies the merchants with sashes.

25

She is clothed with strength and dignity;
she can laugh at the days to come.

26

She speaks with wisdom,
and faithful instruction is on her tongue.

27

She watches over the affairs of her household
and does not eat the bread of idleness.

28

Her children arise and call her blessed;
her husband also, and he praises her:

29

"Many women do noble things,
but you surpass them all."

30

Charm is deceptive, and beauty is fleeting;
but a woman who fears the Lord is to be praised.

31

Honor her for all that her hands have done,
and let her works bring her praise at the city gate.