"In the twenty-fifth year of our exile, at the beginning of the year, on the tenth of the month, in the fourteenth year after the fall of the city — on that very day the hand of the Lord was on me and he took me there.

In visions of God he took me to the land of Israel and set me on a very high mountain, on whose south side were some buildings that looked like a city. He took me there, and I saw a man whose appearance was like bronze; he was standing in the gateway with a linen cord and a measuring rod in his hand.

The man said to me, 'Son of man, look carefully and listen closely and pay attention to everything I am going to show you, for that is why you have been brought here. Tell the people of Israel everything you see.'

I saw a wall completely surrounding the temple area. The length of the measuring rod in the man's hand was six long cubits, each of which was a cubit and a handbreadth. He measured the wall; it was one measuring rod thick and one rod high."

- Ezekiel 40:1-5
Ezekiel Walks Through the New Temple
When Ezekiel received the message recorded in
Ezekiel 40
it had been 13 years since Ezekiel's last message (
Ezekiel 33:21-39:29
). Like the previous vision received in 586 BC this new message in April of 573 BC (
Ezekiel 40
) speaks of a future restoration of Israel. In this vision of 573 BC, 13 years after Jerusalem had fallen, Ezekiel is taken to an unidentified mountain with an unidentified city on its southern slope. It becomes apparent that this mountain is Mount Moriah in a future state with the restored city of Jerusalem setting on its south side.
Meeting Ezekiel at this future site is an angelic figure with a measuring rod 10 feet and 6 inches long. The angel also holds a linen cord which will be used like a tape measure. (A regular cubit was about 18 inches long and a handbreadth was about 3 inches. The "long cubit" that was in use in Ezekiel's time was 21 inches which was 1 cubit plus 1 handbreadth, or 18 inches + 3 inches.)
Ezekiel is shown a large, magnificent temple that will someday be constructed and then used by the people of Israel when they are ultimately restored to the land of Israel. The angel with the appearance of bronze commands Ezekiel to:
• Look carefully
• Listen closely
• Pay attention to everything (which includes details such as the measurements and location of rooms)
• Tell the people of Israel everything he learns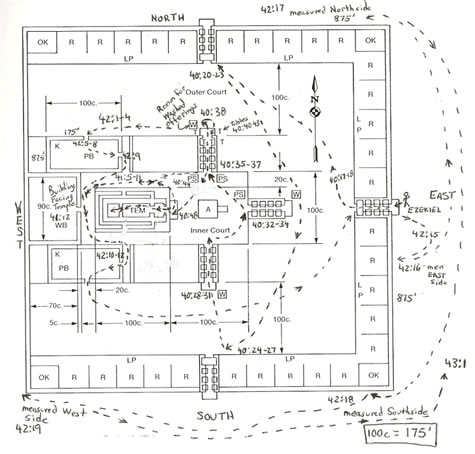 This tour and the recording of these details will continue from
chapter 40 up until 42:20
. At that point in Ezekiel's narrative the Glory of God returns to Israel and enters this temple in
Ezekiel 43:1-9
.
Chadal
(Hb) -
cease
(Eng) - The Hebrew word
chadal
means "to cease," "to come to an end,"
"to desist" and "to lack."
The poor would never
chadal
to be part of society according to
Deuteronomy 15:11
.
Do I read the Old Testament?
I will read and know the Old Testament so I can live out life with understanding and insight.
Concern for those that need help
USA & Israel relationship
"The real Son of God is at your side. He is beginning to turn you into the same kind of thing as Himself. He is beginning, so to speak, to 'inject' His kind of life and thought, His Zoe, into you; beginning to turn the tin soldier into a live ma. The part of you that does not like it is the part that is still tin." – C. S. Lewis in "Mere Christianity"
Newborn babies in the ancient Near East were rubbed with salt. This practice is mentioned in
Ezekiel 16:4
. It was practiced for hygienic purposes with the intention of cleaning and strengthening the baby's skin. Some scholars say the salt indicated that the child would grow up to be honest. The practice of rubbing the infant with salt is still practiced by those who claim that it makes the baby strong. (
more
)
"The sluggard buries his hand in the dish; he is too lazy to bring it back to his mouth."
- Proverbs 26:15
2 Kings 10
New International Version (NIV)

Ahab's Family Killed

10
Now there were in Samaria seventy sons of the house of Ahab. So Jehu wrote letters and sent them to Samaria: to the officials of Jezreel, to the elders and to the guardians of Ahab's children. He said,
2
"You have your master's sons with you and you have chariots and horses, a fortified city and weapons. Now as soon as this letter reaches you,
3
choose the best and most worthy of your master's sons and set him on his father's throne. Then fight for your master's house."

4
But they were terrified and said, "If two kings could not resist him, how can we?"

5
So the palace administrator, the city governor, the elders and the guardians sent this message to Jehu: "We are your servants and we will do anything you say. We will not appoint anyone as king; you do whatever you think best."

6
Then Jehu wrote them a second letter, saying, "If you are on my side and will obey me, take the heads of your master's sons and come to me in Jezreel by this time tomorrow."
Now the royal princes, seventy of them, were with the leading men of the city, who were rearing them.
7
When the letter arrived, these men took the princes and slaughtered all seventy of them. They put their heads in baskets and sent them to Jehu in Jezreel.
8
When the messenger arrived, he told Jehu, "They have brought the heads of the princes."
Then Jehu ordered, "Put them in two piles at the entrance of the city gate until morning."

9
The next morning Jehu went out. He stood before all the people and said, "You are innocent. It was I who conspired against my master and killed him, but who killed all these?
10
Know, then, that not a word the Lord has spoken against the house of Ahab will fail. The Lord has done what he announced through his servant Elijah."
11
So Jehu killed everyone in Jezreel who remained of the house of Ahab, as well as all his chief men, his close friends and his priests, leaving him no survivor.

12
Jehu then set out and went toward Samaria. At Beth Eked of the Shepherds,
13
he met some relatives of Ahaziah king of Judah and asked, "Who are you?"
They said, "We are relatives of Ahaziah, and we have come down to greet the families of the king and of the queen mother."

14
"Take them alive!" he ordered. So they took them alive and slaughtered them by the well of Beth Eked—forty-two of them. He left no survivor.

15
After he left there, he came upon Jehonadab son of Rekab, who was on his way to meet him. Jehu greeted him and said, "Are you in accord with me, as I am with you?"
"I am," Jehonadab answered.
"If so," said Jehu, "give me your hand." So he did, and Jehu helped him up into the chariot.
16
Jehu said, "Come with me and see my zeal for the Lord." Then he had him ride along in his chariot.

17
When Jehu came to Samaria, he killed all who were left there of Ahab's family; he destroyed them, according to the word of the Lord spoken to Elijah.

Servants of Baal Killed

18
Then Jehu brought all the people together and said to them, "Ahab served Baal a little; Jehu will serve him much.
19
Now summon all the prophets of Baal, all his servants and all his priests. See that no one is missing, because I am going to hold a great sacrifice for Baal. Anyone who fails to come will no longer live." But Jehu was acting deceptively in order to destroy the servants of Baal.

20
Jehu said, "Call an assembly in honor of Baal." So they proclaimed it.
21
Then he sent word throughout Israel, and all the servants of Baal came; not one stayed away. They crowded into the temple of Baal until it was full from one end to the other.
22
And Jehu said to the keeper of the wardrobe, "Bring robes for all the servants of Baal." So he brought out robes for them.

23
Then Jehu and Jehonadab son of Rekab went into the temple of Baal. Jehu said to the servants of Baal, "Look around and see that no one who serves the Lord is here with you—only servants of Baal."
24
So they went in to make sacrifices and burnt offerings. Now Jehu had posted eighty men outside with this warning: "If one of you lets any of the men I am placing in your hands escape, it will be your life for his life."

25
As soon as Jehu had finished making the burnt offering, he ordered the guards and officers: "Go in and kill them; let no one escape." So they cut them down with the sword. The guards and officers threw the bodies out and then entered the inner shrine of the temple of Baal.
26
They brought the sacred stone out of the temple of Baal and burned it.
27
They demolished the sacred stone of Baal and tore down the temple of Baal, and people have used it for a latrine to this day.

28
So Jehu destroyed Baal worship in Israel.
29
However, he did not turn away from the sins of Jeroboam son of Nebat, which he had caused Israel to commit—the worship of the golden calves at Bethel and Dan.

30
The Lord said to Jehu, "Because you have done well in accomplishing what is right in my eyes and have done to the house of Ahab all I had in mind to do, your descendants will sit on the throne of Israel to the fourth generation."
31
Yet Jehu was not careful to keep the law of the Lord, the God of Israel, with all his heart. He did not turn away from the sins of Jeroboam, which he had caused Israel to commit.

32
In those days the Lord began to reduce the size of Israel. Hazael overpowered the Israelites throughout their territory
33
east of the Jordan in all the land of Gilead (the region of Gad, Reuben and Manasseh), from Aroer by the Arnon Gorge through Gilead to Bashan.

34
As for the other events of Jehu's reign, all he did, and all his achievements, are they not written in the book of the annals of the kings of Israel?

35
Jehu rested with his ancestors and was buried in Samaria. And Jehoahaz his son succeeded him as king.
36
The time that Jehu reigned over Israel in Samaria was twenty-eight years.

New International Version
(NIV)

Holy Bible, New International Version®, NIV® Copyright © 1973, 1978, 1984, 2011 by
Biblica, Inc.®
Used by permission. All rights reserved worldwide.
Ezra 7
New International Version (NIV)

Ezra Comes to Jerusalem

7
After these things, during the reign of Artaxerxes king of Persia, Ezra son of Seraiah, the son of Azariah, the son of Hilkiah,
2
the son of Shallum, the son of Zadok, the son of Ahitub,
3
the son of Amariah, the son of Azariah, the son of Meraioth,
4
the son of Zerahiah, the son of Uzzi, the son of Bukki,
5
the son of Abishua, the son of Phinehas, the son of Eleazar, the son of Aaron the chief priest—
6
this Ezra came up from Babylon. He was a teacher well versed in the Law of Moses, which the Lord, the God of Israel, had given. The king had granted him everything he asked, for the hand of the Lord his God was on him.
7
Some of the Israelites, including priests, Levites, musicians, gatekeepers and temple servants, also came up to Jerusalem in the seventh year of King Artaxerxes.

8
Ezra arrived in Jerusalem in the fifth month of the seventh year of the king.
9
He had begun his journey from Babylon on the first day of the first month, and he arrived in Jerusalem on the first day of the fifth month, for the gracious hand of his God was on him.
10
For Ezra had devoted himself to the study and observance of the Law of the Lord, and to teaching its decrees and laws in Israel.

King Artaxerxes' Letter to Ezra

11
This is a copy of the letter King Artaxerxes had given to Ezra the priest, a teacher of the Law, a man learned in matters concerning the commands and decrees of the Lord for Israel:

12
Artaxerxes, king of kings,
To Ezra the priest, teacher of the Law of the God of heaven:
Greetings.

13
Now I decree that any of the Israelites in my kingdom, including priests and Levites, who volunteer to go to Jerusalem with you, may go.
14
You are sent by the king and his seven advisers to inquire about Judah and Jerusalem with regard to the Law of your God, which is in your hand.
15
Moreover, you are to take with you the silver and gold that the king and his advisers have freely given to the God of Israel, whose dwelling is in Jerusalem,
16
together with all the silver and gold you may obtain from the province of Babylon, as well as the freewill offerings of the people and priests for the temple of their God in Jerusalem.
17
With this money be sure to buy bulls, rams and male lambs, together with their grain offerings and drink offerings, and sacrifice them on the altar of the temple of your God in Jerusalem.

18
You and your fellow Israelites may then do whatever seems best with the rest of the silver and gold, in accordance with the will of your God.
19
Deliver to the God of Jerusalem all the articles entrusted to you for worship in the temple of your God.
20
And anything else needed for the temple of your God that you are responsible to supply, you may provide from the royal treasury.

21
Now I, King Artaxerxes, decree that all the treasurers of Trans-Euphrates are to provide with diligence whatever Ezra the priest, the teacher of the Law of the God of heaven, may ask of you—
22
up to a hundred talents of silver, a hundred cors of wheat, a hundred baths of wine, a hundred baths of olive oil, and salt without limit.
23
Whatever the God of heaven has prescribed, let it be done with diligence for the temple of the God of heaven. Why should his wrath fall on the realm of the king and of his sons?
24
You are also to know that you have no authority to impose taxes, tribute or duty on any of the priests, Levites, musicians, gatekeepers, temple servants or other workers at this house of God.

25
And you, Ezra, in accordance with the wisdom of your God, which you possess, appoint magistrates and judges to administer justice to all the people of Trans-Euphrates—all who know the laws of your God. And you are to teach any who do not know them.
26
Whoever does not obey the law of your God and the law of the king must surely be punished by death, banishment, confiscation of property, or imprisonment.

27
Praise be to the Lord, the God of our ancestors, who has put it into the king's heart to bring honor to the house of the Lord in Jerusalem in this way
28
and who has extended his good favor to me before the king and his advisers and all the king's powerful officials. Because the hand of the Lord my God was on me, I took courage and gathered leaders from Israel to go up with me.

New International Version
(NIV)

Holy Bible, New International Version®, NIV® Copyright © 1973, 1978, 1984, 2011 by
Biblica, Inc.®
Used by permission. All rights reserved worldwide.
Lamentations 3:37-4:22
New International Version (NIV)

37

Who can speak and have it happen
if the Lord has not decreed it?

38

Is it not from the mouth of the Most High
that both calamities and good things come?

39

Why should the living complain
when punished for their sins?

40

Let us examine our ways and test them,
and let us return to the Lord.

41

Let us lift up our hearts and our hands
to God in heaven, and say:

42

"We have sinned and rebelled
and you have not forgiven.

43

"You have covered yourself with anger and pursued us;
you have slain without pity.

44

You have covered yourself with a cloud
so that no prayer can get through.

45

You have made us scum and refuse
among the nations.

46

"All our enemies have opened their mouths
wide against us.

47

We have suffered terror and pitfalls,
ruin and destruction."

48

Streams of tears flow from my eyes
because my people are destroyed.

49

My eyes will flow unceasingly,
without relief,

50

until the Lord looks down
from heaven and sees.

51

What I see brings grief to my soul
because of all the women of my city.

52

Those who were my enemies without cause
hunted me like a bird.

53

They tried to end my life in a pit
and threw stones at me;

54

the waters closed over my head,
and I thought I was about to perish.

55

I called on your name, Lord,
from the depths of the pit.

56

You heard my plea: "Do not close your ears
to my cry for relief."

57

You came near when I called you,
and you said, "Do not fear."

58

You, Lord, took up my case;
you redeemed my life.

59

Lord, you have seen the wrong done to me.
Uphold my cause!

60

You have seen the depth of their vengeance,
all their plots against me.

61

Lord, you have heard their insults,
all their plots against me—

62

what my enemies whisper and mutter
against me all day long.

63

Look at them! Sitting or standing,
they mock me in their songs.

64

Pay them back what they deserve, Lord,
for what their hands have done.

65

Put a veil over their hearts,
and may your curse be on them!

66

Pursue them in anger and destroy them
from under the heavens of the Lord.

4

How the gold has lost its luster,
the fine gold become dull! The sacred gems are scattered
at every street corner.

2

How the precious children of Zion,
once worth their weight in gold, are now considered as pots of clay,
the work of a potter's hands!

3

Even jackals offer their breasts
to nurse their young, but my people have become heartless
like ostriches in the desert.

4

Because of thirst the infant's tongue
sticks to the roof of its mouth; the children beg for bread,
but no one gives it to them.

5

Those who once ate delicacies
are destitute in the streets. Those brought up in royal purple
now lie on ash heaps.

6

The punishment of my people
is greater than that of Sodom, which was overthrown in a moment
without a hand turned to help her.

7

Their princes were brighter than snow
and whiter than milk, their bodies more ruddy than rubies,
their appearance like lapis lazuli.

8

But now they are blacker than soot;
they are not recognized in the streets. Their skin has shriveled on their bones;
it has become as dry as a stick.

9

Those killed by the sword are better off
than those who die of famine; racked with hunger, they waste away
for lack of food from the field.

10

With their own hands compassionate women
have cooked their own children, who became their food
when my people were destroyed.

11

The Lord has given full vent to his wrath;
he has poured out his fierce anger. He kindled a fire in Zion
that consumed her foundations.

12

The kings of the earth did not believe,
nor did any of the peoples of the world, that enemies and foes could enter
the gates of Jerusalem.

13

But it happened because of the sins of her prophets
and the iniquities of her priests, who shed within her
the blood of the righteous.

14

Now they grope through the streets
as if they were blind. They are so defiled with blood
that no one dares to touch their garments.

15

"Go away! You are unclean!" people cry to them.
"Away! Away! Don't touch us!" When they flee and wander about,
people among the nations say,
"They can stay here no longer."

16

The Lord himself has scattered them;
he no longer watches over them. The priests are shown no honor,
the elders no favor.

17

Moreover, our eyes failed,
looking in vain for help; from our towers we watched
for a nation that could not save us.

18

People stalked us at every step,
so we could not walk in our streets. Our end was near, our days were numbered,
for our end had come.

19

Our pursuers were swifter
than eagles in the sky; they chased us over the mountains
and lay in wait for us in the desert.

20

The Lord's anointed, our very life breath,
was caught in their traps. We thought that under his shadow
we would live among the nations.

21

Rejoice and be glad, Daughter Edom,
you who live in the land of Uz. But to you also the cup will be passed;
you will be drunk and stripped naked.

22

Your punishment will end, Daughter Zion;
he will not prolong your exile. But he will punish your sin, Daughter Edom,
and expose your wickedness.

New International Version
(NIV)

Holy Bible, New International Version®, NIV® Copyright © 1973, 1978, 1984, 2011 by
Biblica, Inc.®
Used by permission. All rights reserved worldwide.